ReSanskrit wishes you and every Indian citizen a very Happy Independence Day. We have completed 75 years since we got the Independence. We have come so far, let us take a moment to remember the ones because of whom we got this  liberty. The freedom fighters, the liberators, they are the ones because this sanskrit shlok stands true. That it takes a good will and penance to be born in india.

सलिलं सुधामधुरितं पवनोऽपि गन्धवाही।
चरितं विकल्पकलितं धर्मो दयावगाही।
यत्प्राङ्गणं शबलितं कौतूहलैरशेषम्॥
वन्दे सदा स्वदेशम्॥
salilaṃ sudhāmadhuritaṃ pavano'pi gandhavāhī।
caritaṃ vikalpakalitaṃ dharmo dayāvagāhī।
yatprāṅgaṇaṃ śabalitaṃ kautūhalairaśeṣam॥
vande sadā svadeśam॥
Hindi Translation:
जहाँ की हवा सुगन्धित है और पानी अमृत के समान मधुर है, जहाँ नागरिकों की विविधता है, तथापि जहाँ सभी का धर्म एकनिष्ठ प्रेम एवं दयाभाव से परिपूर्ण है, तथा जहाँ की भूमि अनेकता में एकता वाली गंगा-जमुनी संस्कृति को दर्शाती है, ऐसे अपने देश की मैं सदा वन्दना करता हूँ।
English Translation:
Where the air is fragrant and the water is sweet like nectar, where the citizens are diverse and yet practise their respective religions with love and kindness, and where the land is a reflection of unity in diversity, I always bow down to that country of mine.
Source
आचार्यः अभिराज राजेन्द्र मिश्रः।
---
वन्दे ध्वजं त्रिवर्णं सर्वत्रम्।
vande dhvajaṃ trivarṇaṃ sarvatram।
Hindi Translation:
हर घर तिरंगे ध्वज को मैं वन्दना करता हूँ।
English Translation:
I salute the tricolor flag that's everywhere.
---
---
गायन्ति देवाः किल गीतकानि धन्यास्तु ते भारतभूमिभागे।
स्वर्गापवर्गास्पदमार्गभूते भवन्ति भूयः पुरुषाः सुरत्वात् ॥
gāyanti devāḥ kila gītakāni dhanyāstu te bhāratabhūmibhāge ।
svargāpavargāspadamārgabhūte bhavanti bhūyaḥ puruṣāḥ suratvāt ॥
Hindi Translation:
देवगण भी यह गान करते हैं कि जिन्होंने भारतवर्ष में जन्म लिया है,
जो कि स्वर्ग और मोक्ष का मार्ग है, वे पुरुष हम देवताओं से भी अधिक धन्य हैं।
English Translation:
Even the gods sing that the men who are born in this Bhāratavarṣa, which is the path to heaven and liberation,
are more fortunate than us gods.
Source: Vishnu Purana 2.3.24
---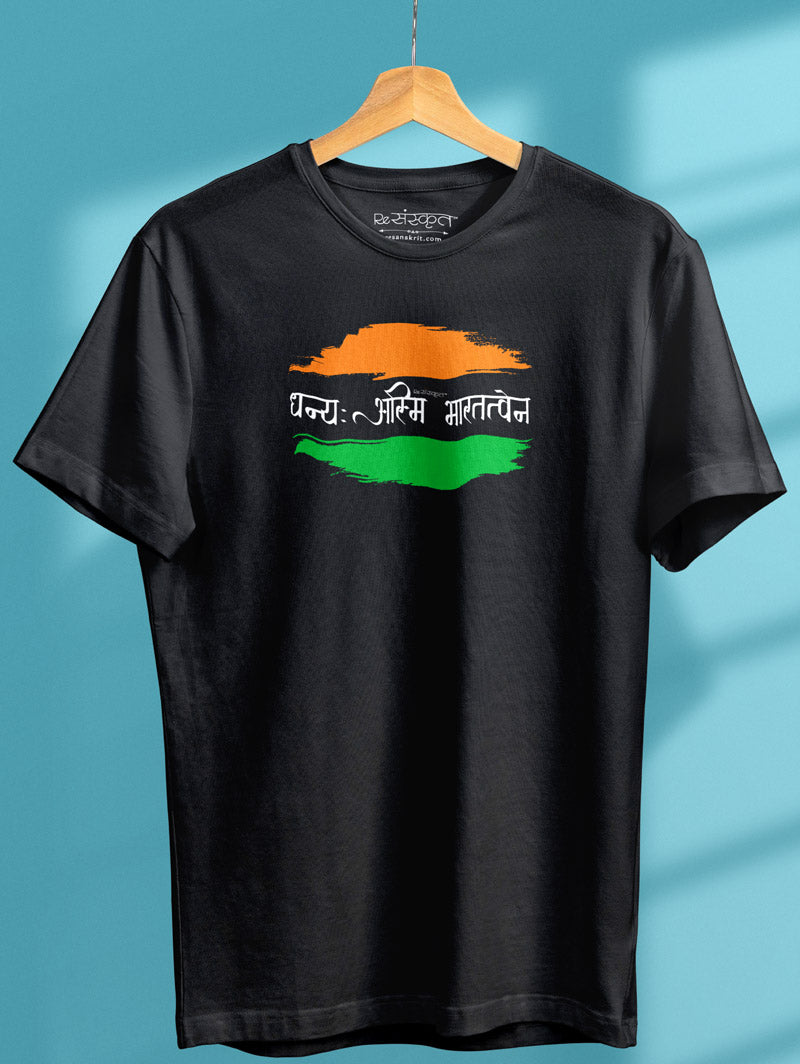 Bring Sanskrit home!
ReSanskrit merchandise starting at ₹229.
Browse Collection!
---
---
Like our work? Follow us on Instagram!
---